Bailey Unicorn Black Edition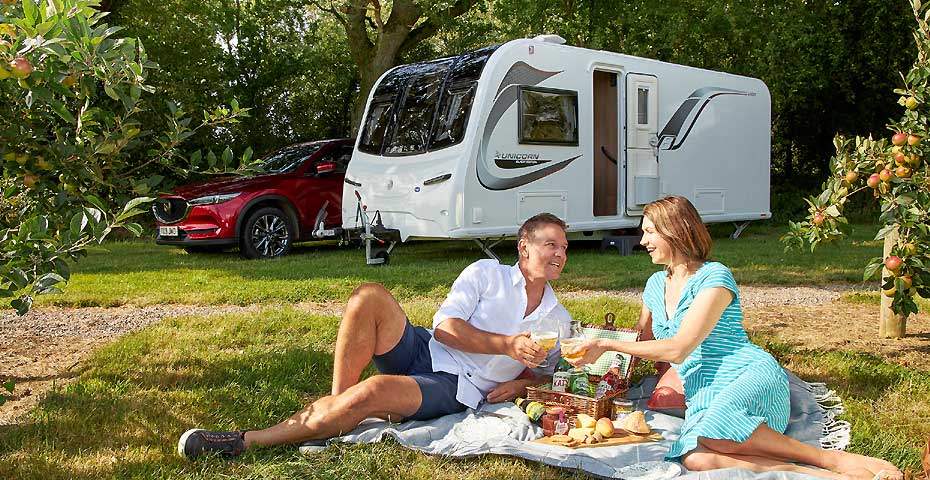 Bailey Unicorn Black Edition
A Stylish, Limited Edition of the Seven Most Popular Unicorn Layouts
Freshen the look and enhance the styling inside and out, combine with an already comprehensive specification, make caravans with accessible unladen weights and provide at competitive retail prices - you have the Bailey Unicorn Black Edition!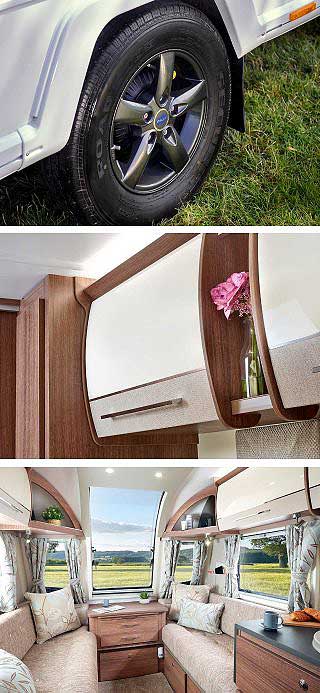 This limited edition is available from the start of September 2019 and will include seven different, highly popular layouts ( the Unicorn Seville, Madrid, Barcelona and Segovia will all be discontinued ). The range includes both single and twin axle models.
What are the differences?
But what are the differences between a Unicorn and a Unicorn Black Edition - read on to find out.
External Graphics - the new Unicorns have been given a bold, new modern graphics scheme.
Wheels - The Unicorn Black will sport Graphite coloured alloy wheels that complement the new graphics scheme.
Seats - the Black Edition has new construction seating in the front lounge and is available in a choice of either Brompton ( standard ) or Alperton ( cost option ) fabrics. Either choice is supplied with a full complement of bolster and scatter cushions.

There is one new feature that really stood out to me which I think will make a world of difference to how comfortable the lounge area is. The sofas in the lounge features a new knee roll which is one of the best things I have seen added to a lounge area in quite some time. I cannot stress enough how much this helped with my posture when sitting and overall comfort. So simple yet so effective. Next time you get a chance to see one of these vans I urge you to take a seat and give it a test - Quote from Caravan Times.

Locker Doors - New curved Italian design, dual finish locker doors
Kitchen Sink - Circular stainless steel kitchen sink with concealed fixings.
Kitchen Splashback - new design splashback with chrome detailing
Bailey Unicorn Black Edition Cadiz - 2021

Price On Application

Berth: 4 Layout: Twin Single Beds with End Washroom

Bailey Unicorn Black Edition Merida

Price On Application

Berth: 2 Layout: End Washroom Layout

Bailey Unicorn Black Edition Valencia

Price On Application

Berth: 4 Layout: Fixed Double Corner Bed with End Washroom

Bailey Unicorn Black Edition Vigo

Price On Application

Berth: 4 Layout: Transverse Island Double Bed with End Washroom

Bailey Unicorn Black Edition Cabrera

Price On Application

Berth: 4 Layout: Longitudal Double Bed with Central Washroom

Bailey Unicorn Black Edition Cartagena

Price On Application

Berth: 4 Layout: Transverse Island Double Bed with Rear Washroom

Bailey Unicorn Black Edition Pamplona

Price On Application

Berth: 4 Layout: Longitudal Island Double Bed with Central Washroom
External Features ( Main )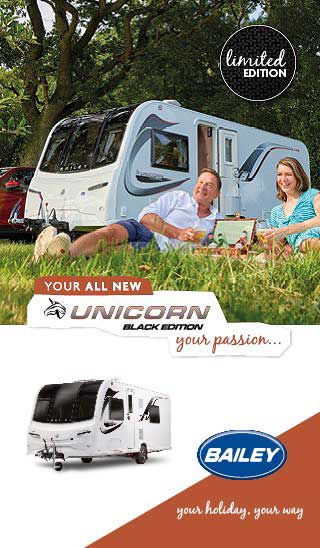 AL-KO one-piece galvanised steel chassis, braking system and running gear
Exterior 230v socket and 230v power inlet for mains hook-up
Exterior Gas BBQ Point
External satellite connection point
Status 570 telescopic directional digital television aerial
Alu-Tech Bodyshell
Patented Alu-Tech construction makes the caravan more robust, more durable and yet lighter than caravans manufactured using a traditional/conventional method. It offers greater protection against the elements thereby providing more comfort.
Supplied with a 6-year transferable bodyshell integrity warranty and a 3-year transferable manufacturers components warranty
Gives improved thermal insulation when compared to traditionally constructed caravans. EN-1645 Grade III classification for heating and thermal insulation.
Safety And Security
AL-KO ATC Trailer Control System - Anyone who has ever encountered critical driving situations when towing their caravan will know that the caravan reacts very sensitively at high speeds – and what the risks are! Even minor avoidance manoeuvres, side winds on bridges or wind pressure when overtaking trucks can soon cause the trailer to start snaking. ATC AL-KO Trailer Control actively counteracts such phenomena!
AL-KO AKS 3004 Stabiliser - Suppresses the initial signs of caravan instability and improves ride comfort. Four specially designed friction pads work to effectively suppress the initial signs of caravan instability and snaking movements, providing excellent ride comfort for your car and caravan combination.
AL-KO shock absorbers
TyrePal Tyre Pressure Monitor System ( TPMS )
TRACKER Monitor Thatcham CAT 7 approved Stolen Vehicle Recovery System ( includes first 3 months subscription fee )
TRACKER PIR activated intruder alarm featuring a tilt sensor and key fob operation.
CRiS identity number anti-tamper labels attached to windows and inside gas locker.
Concealed security data chip within caravan construction.
Interior Features
Slatted front bed make-up system on easy-glide track.
Vertical front skylight and roof light with integral ambient and task lighting in the surround.
Soft closing overhead lockers with split level storage.
Kitchen splashback
Superior foam fixed bed mattress construction with memory foam top.
Internal Headroom of 1.96 metres ( 6' 5" ) throughout the length of the caravan.
Services
Truma 100 watt solar panel
USB sockets ( upto 8 depending on model )
TV station with 230v, 12v and aerial sockets
Switch mode battery charger with 20 amp output
RCD/MCB protection for mains electric system
Pre-wiring for motor mover ( motor mover not supplied )
Alde Hydronic Compact 3020 programmable radiator heating system with combined water heating
Alde 3020 boiler for improved fuel economy
Washroom panel radiator
Thetford C-260 cassette toilet with remote header tank.
General Equipment
Remis pleated flyscreen and blinds to principal windows.
Remis 2-part pleated flyscreen and blind to vertical skylight
Hartal pleated full length flyscreen to exterior door.
DAB Radio / CD / MP3 player with USB connection point and Bluetooth capability.
Kitchen Equipment
Dometic tower refrigerator & 12 litre freezer with electronic ignition.
Thetford Caprice combined oven, grill and hob with electronic ignition and flame failure device.
Thetford dual fuel hob with electric hotplate and 3 gas burners.
Microwave oven - 800 watt
Stainless steel round kitchen sink with concealed fixings, swan-neck mixer tap, washing up bowl and drainer.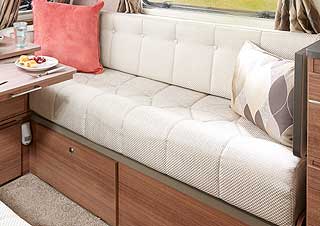 Optional Extras
These optional extras give you a little bit more choice about your purchase of a Bailey Unicorn Black Edition caravan. The prices for these extra options may well change over time so if you are interested please check with our staff.
'Alperton' alternative upholstery