Penrose Touring offer almost the entire, extensive Dorema awning range, with each awning typically coming in many different sizes and colour choices.
In today's rapidly developing caravan awning market, Dorema have continued to make investments in the future with practical, improved manufacturing technological innovation and ongoing extensive research into the production of high quality materials for awnings. Whether you are looking for a full size caravan awning with traditional poles for long term site use, an awning with the convenience and ease of airframe technology or a more compact weekend porch awning, the quality and variety of options provided by the Dorema range will make your choice that much easier.
Dorema Awnings - Some Product Details

Ten Cate Material
The Ten Cate awning material used by Dorema is an all season, heavy duty, high quality fabric. It is completely waterproof, easy to clean and is strong enough to stand up to harsh weather conditions. The Ten Cate material is also colourfast and will ensure your awning has a long life.
Double Zip System
Create extra space with this smart new idea from Dorema. Their unique annex double zip system enables you to replace the side panel once the annex is fitted. This then enables you to create a handy extra storage area. This feature is only available on the new President XL280, Garda 240, Garda 240 De Luxe, Garda XL270, Octavia, President 250/XL300, Grande Octavia and Omega De Luxe ( information correct at March 2018 ).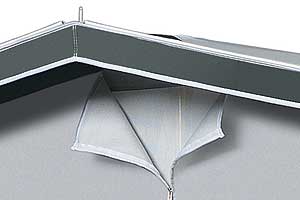 Awning Ventilation
On most Dorema awnings there is a central net ventilation panel, typically situated at the apex as shown, that can be closed with a zipped panel. ( Note: If this is an important feature to you, then check the details of the individual awning you are planning to purchase to ensure it has this feature. )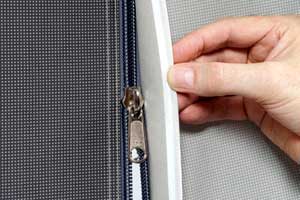 Covered Zips
Most Dorema awnings have covered zips in matching material for extra protection.
Curtain Fixings
The high quality curtains slide on a sewn in plastic track.
Multifunctional Draught Skirt
All Dorema awnings and sun canopies are equipped with their multifunctional draught skirt. Dorema's special solution is also suitable for all aerodynamic caravan shapes.