Bailey Pegasus Grande GT75 Caravan Range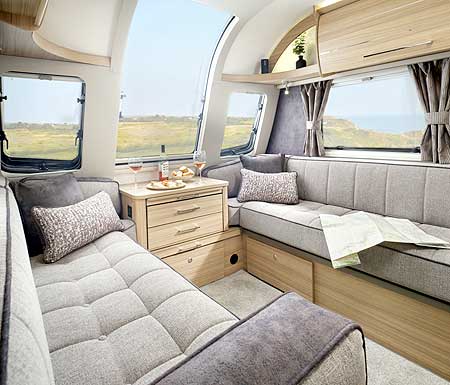 Celebrating 75 years of caravan manufacturing, Bailey's best-selling 8ft wide range has undergone an update - the result is the Pegasus Grande GT75 Caravan Range. Now available in a choice of four spacious layouts, these surprisingly light caravans are equally at home as either touring or seasonal vehicles.
More Interior Space
Always searching for extra room in your caravan? The Pegasus Grande GT75's could be just what you are looking for. All models in the range benefit from the extra interior space that an 8 foot wide caravan provides - more room to stretch out, more room for seating and beds and more room for appliances and fixtures.
Alu-Tech Bodyshell And Truma Combi Heating
All models in this range are built using Bailey's patented Alu-Tech construction technology, cloaked in a GRP outer skin, making them more robust, more durable and yet lighter than those manufactured using older, conventional methods to offer greater protection against the elements and keep you comfortable, safe and secure all year round.
Pegasus Grande GT75 models are fitted with a fully specified Truma Combi heating and hot water system ( Combi 4 in single axles & Combi 6 in twin axles ) which allows you to holiday no matter the time of year. Combined with the market-leading thermal characteristics of the Alu-Tech body shell, this makes this a genuine all-weather vehicle, a fact confirmed with the achievement of the highest rating for thermal performance ( Grade III Classification of EN1656-I ) in rigorous cold chamber testing. Plus for those people seeking that extra level of flexibility the Truma iNet X upgrade is available to allow remote control of the caravan's hot water and heating systems.

Grande GT75 Sleeping Comfort
With fixed, luxurious king size double island beds to every layout in the range, it is clear that sleeping comfort and convenience is of primary importance.
With room all-around them, island beds can be accessed from both the left and right side. This means that there is no need for anyone to climb over the co-sleeper when making night-time visits to other parts of the caravan; an advantage that makes island beds popular with many caravanners.