KAMPA AWNINGS PRODUCT GUIDE
Make the most of the outdoors with a Kampa Dometic awning. Kampa's premium awnings feature the latest innovations and enhancements to provide privacy and comfort wherever you pitch-up. Designed for easy and convenient extension of your living space, quality materials are used to ensure reliable operation and durability.Year-on-year, Kampa Dometic advance and develope their best-selling awnings to give you the confidence and ability to adventure further and for longer.

SINGLE POINT INFLATION
Individual AirPoles are linked together allowing the entire awning to be inflated from a single external inflation point. The entire AirFrame is deflated through quick release deflation valves at the base of each leg; as each AirPole is connected there is no need to individually deflate each AirPole. As well as being one of the easiest awnings to set-up, Kampa Dometic awnings are also one of the easiest to take down.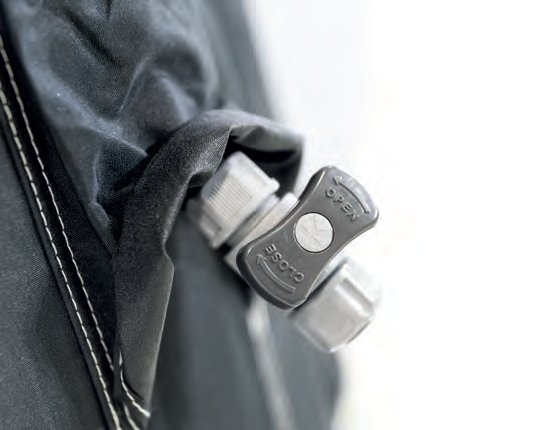 Deflation Valve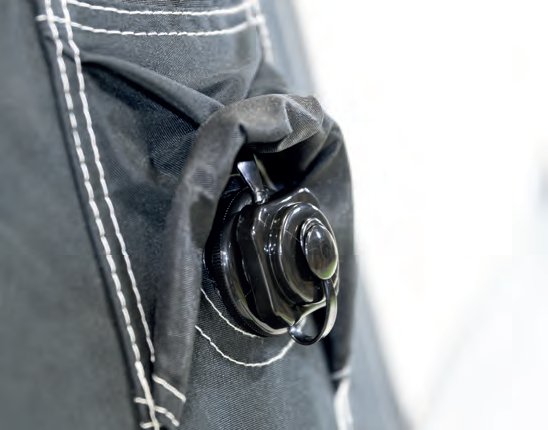 Inflation Valve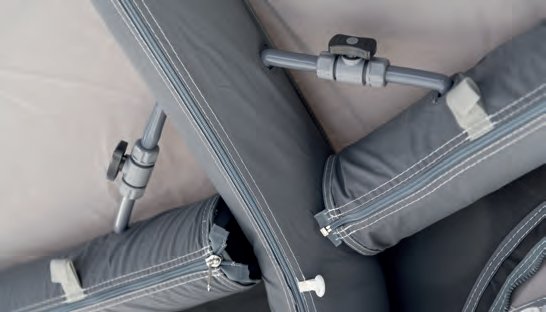 AIRFRAME CONSTRUCTION
The patented AirFrame technology in Kampa Dometic inflatable awnings will transform your touring experience. Conventional steel and fibreglass awning poles are replaced with interlinked inflatable AirPoles, enabling you to inflate the entire awning from a single external point. Conveniently, the AirFrame is always attached to the awning for a quick and easy setup. And not only is the AirFrame extremely strong, it can flex in the wind too, so you'll never break or bend a pole. Plus, with no metal or fibreglass poles there's nothing to damage your caravan or motorhome, as the AirPoles simply rest against your vehicle with no other attachment needed.
The AirFrame is incredibly durable, each AirPole is made of a strong TPU inflation tube zipped into a reinforced laminated oxford polyester/PE cover, which is then zipped into a heavy-duty polyester sleeve in the awning.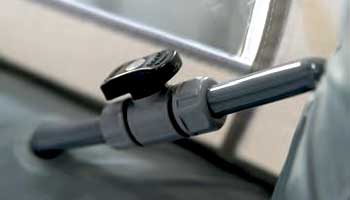 RELIABLE TECHNOLOGY
Kampa Dometic AirPoles are well protected and require no maintenance. Inflatable awnings are considerably lighter and with no poles to snap, the AirFrame is far more durable than conventional poles too. The AirFrame is suitable for both hot and cold climates as well as extreme changes in temperature.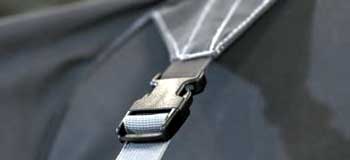 STORM STRAPS
Included as standard with some Kampa Dometic awnings ( please check each individual awning for details ), Storm Straps add stability and improve performance in adverse weather conditions.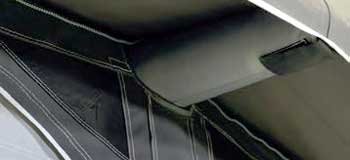 INTEGRAL INFLATABLE CANOPY
A standard feature of some Kampa Dometic awnings ( please check each individual awning for details ), this is an integral inflatable wet weather canopy with apex mesh ventilation.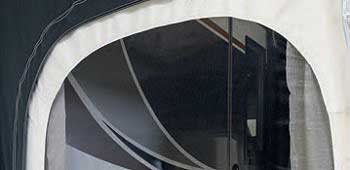 MESH FLYSCREEN
A large secondary mesh panel behind the window provides relief in hot weather.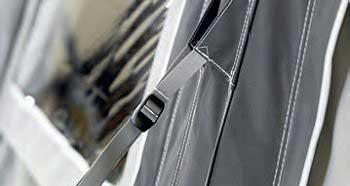 QUICKPITCH GUYING SYSTEM
Heavy duty straps that can be pegged out in seconds. Peg the bottom strap taut and adjust the top buckle to apply tension.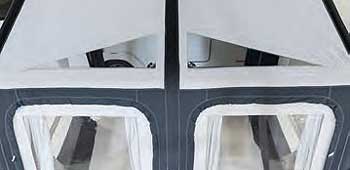 DUAL-PITCH ROOF SYSTEM
Designed to ensure wind is deflected and rain water is shed efficiently, helping prevent puddling on the roof and enhancing performance.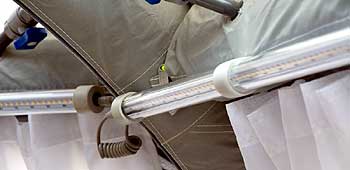 SABRELINK READY
Attach up to three lights on the front and centre AirPoles. Switch the lights on/off and adjust the brightness remotely. Also suits poled awnings.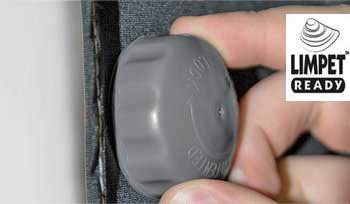 LIMPET READY
Pre-punched holes ready to attach the rear wall of the awning to the caravan, motorhome or some other vehicle using Kampa's Limpet Fix technology. Most ( but not all ) Kampa AIR awnings come Limpet Fix Ready. Simply attach the Limpet through the pre-cut holes in the rear of the awning and fasten to a smooth caravan surface.
Kampa Awning Materials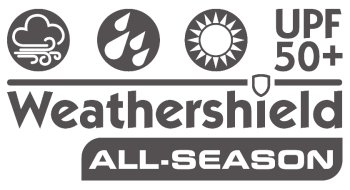 WEATHERSHIELD ALL-SEASON
Ultra-rugged and UV resistant All-Season material, perfect for touring in warmer climes and for use on a seasonal pitch. This fully breathable fabric has been constructed to cope with extremes of weather, tested in the wettest places in Europe and the sunniest parts of Australia to ensure it never lets you down.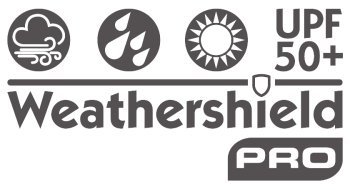 WEATHERSHIELD PRO
The iconic Kampa Dometic fabric used extensively throughout the awning range has proved itself time and time again. With the look and feel of a traditional fabric, but weighing far less, Weathershield Pro continues to be the definitive choice for tourers the world over.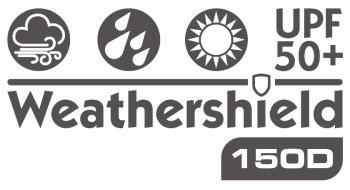 WEATHERSHIELD 150D
Extremely light and easy to handle, Weathershield 150D promises super fast set-up and take-down every time. It is extremely durable and weather resistant too - this lightweight material offers great value.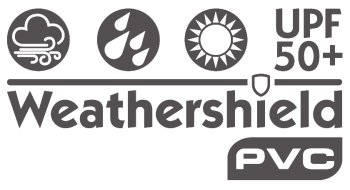 WEATHERSHIELD PVC
Constructed with 400g/m² PVC, this tough awning material is waterproof, has a long life and is easy to clean. Developed by Kampa Dometic for winter touring, Weathershield PVC is rated to -20° C - more than a match for even the most extreme snowy conditions.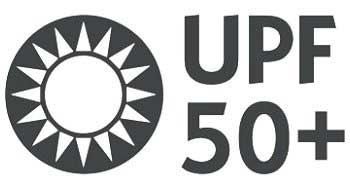 ULTRAVIOLET PROTECTION FACTOR
An Ultraviolet Protection Factor ( UPF ) denotes how much solar ultraviolet radiation is reduced when passing through fabric. Kampa Dometic awning material allows only 1/50
th
of ultraviolet rays to pass through, ensuring you are protected and kept cool.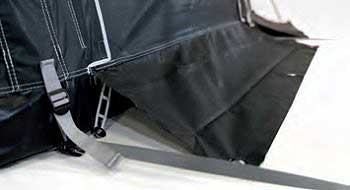 DOUBLE MUD WALL
Tough double mud wall directs rain water away from the awning, keeping the ground around the pegging points dry and the awning secure.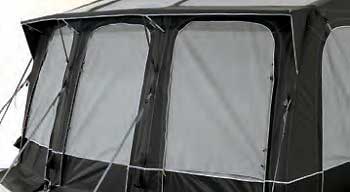 EXTERNAL BLINDS
All the windows have external zipped blinds for added protection and privacy.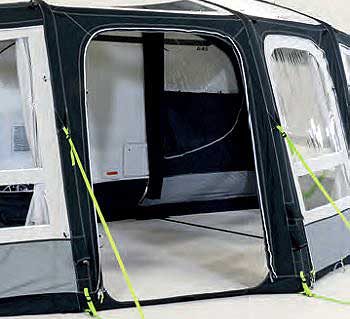 ZIP-OUT FRONT PANELS
Front panels can be zipped out to reduce weight and to open the awning up veranda style.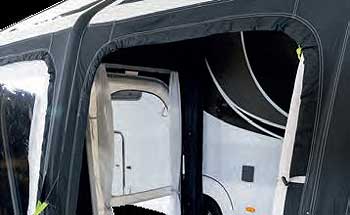 ROLL-TO-SIDE FRONT PANELS
The front panels can be rolled to the side opening the front up, or alternatively zipped halfway down to let air in without compromising security.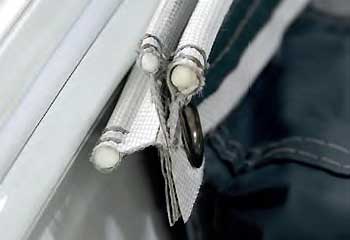 TRIPLE BEADING
Features 4mm, 6mm & 7mm beading as standard, allowing fitment to both caravan awning rails and motorhome cassette awnings.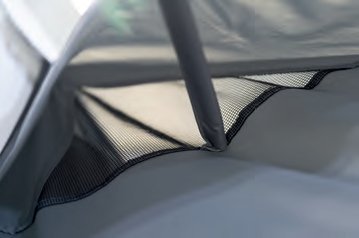 APEX VENTILATION
Wether protected apex ventilation allows warm air to escape, increasing air circulation and reducing condensation inside the awning.